Willow Creek Research Project
Background:
Willow Creek begins just southwest of Copper Center, Alaska, then flows toward the southeast through the region of Kenny Lake to the Tonsina River. It is the only watercourse through this area, draining a watershed of over 100 square miles. Willow Creek provides habitat for fish and wildlife, educational and recreational opportunities, and possibly supplies water for some of the local wells. The lower portions of the creek, south of the Edgerton Highway, lose water during the late winter and also during dry summers. Because Willow Creek already has inadequate water supply to maintain year-round flow, it is a bellwether stream that will likely be an advance indicator of possible future water problems. This long-term research project will help determine factors that affect the quantity and quality of water in Willow Creek. Willow Creek is a stream worth understanding if the benefits of its water are to be available to future residents. For more information about the nature and scope of the research project, click here.
Extremes of Summer Flow:
South of the Edgerton Highway, creek water levels in the summer can vary greatly, depending on precipitation and the presence of beaver dams. The photos here show the extremes. Both were taken at the same location, south of mile 5.75 on the Edgerton Highway, and at the same time of year (August). The left image was taken during the dry summer of 2004, the right during the wet summer of 2008. Although downstream beaver dams sometimes affect the water level at this location, there were no such dams at the times of these photos.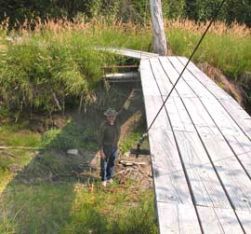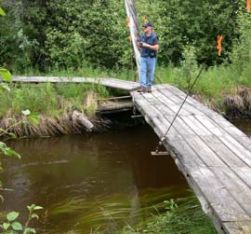 The image below shows Willow Creek as it crosses the Edgerton Highway, flowing toward the southeast. Click and drag to follow the creek upstream or downstream, or click the link below the image to go to a larger version.